Resilience and Fibromyalgia don't often complement each other. Resilience is one's ability to bounce back. Fibromyalgia is a syndrome that is characterized by flare ups, or "flares," of symptoms such as widespread musculoskeletal, stabbing or burning pain; fatigue; sleep problems; and cognitive problems. These flares can be short-lived or long-lasting, and sometimes debilitating, mentally draining, and exhausting. So you can see where these two things don't naturally lend themselves to each other.
Vicious Cycle
Stress is a major factor in fibro-flares. And with all the daily stressors we are faced with, you can see pictured below how this cycle can be difficult to break. I have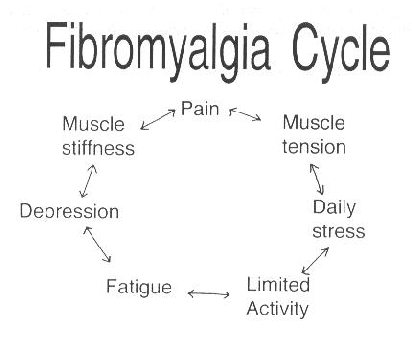 found as I have gotten older that, while I don't have as many flares, it is more difficult to recover from them. Our bodies become less resilient as we age.
Rubber Bands
Think of resilience like a new rubber band with all of it's stretchiness and ability to stretch without easily breaking. And as that rubber band ages and dries out, when stretched, it will break. That is essentially how it feels to recover from a wicked flare. Like you're rubber band is being stretched to its limits, or worse it has already broken and there's no putting it back together.
Despite the best laid plans, flares happen. I try to do everything right to avoid those nasty and debilitating "fibro flares." I work out daily, I keep a gratitude journal, I eat right, and I minimize my stress. But sometimes the fibro-Gods have other plans. Adrenaline and healthy practices will only get you so far. Stress happens.
So what can you do to bounce back quickly from a flare?
7 Tips for Flare Resilience
1. Maintain a Positive Attitude
We have all heard about the power of positive thinking. A positive attitude will help you  recover faster. I am convinced that if you focus on the pain and the negative, it will perpetuate that vicious cycle; so change the way you think to break that cycle. Flares are temporary.
"What you choose to focus on becomes your reality."

~ Jen Sincero from You're a Badass
2. Get Your Sleep
You can't expect to recover if you aren't well rested. Sleep allows the body to recover, repair and rejuvenate itself. And you cannot make up for a sleep deficit by sleeping in on the weekends. Develop a consistent routine for bedtime and getting adequate sleep.
3. Stick to a Schedule
…as much as possible. Avoid added stress. Don't abandon your daily routine, just adapt it where necessary when you are in flare mode. Missing out on the daily routine is sure to perpetuate the depression factor in the fibro cycle.
Can't do your normal workout? How about a 30 minute YouTube video on meditation or easy yoga.
Work from home or adjust your work schedule.
Order groceries or do other shopping online.
4. Ask for Help
Do you have family, friends, or neighbors that you can ask to help? Maybe they can make a meal, run an errand, or mow the yard for you. You won't be able to bounce back if you are still running yourself ragged trying to do everything.
5. Eat Healthy and Stay Hydrated
Healthy meals are necessary to help break the flare cycle. Have easy, go to meals. Try soup or salad and sandwiches, a healthy casserole that you have in the freezer, or throw something in the crockpot. Order a healthy meal for pick-up or delivery (Favor and UberEats will bring your favorite healthy take-out meal to you).
My favorite quick healthy meal is to buy packaged salad greens, shredded chicken from the deli, add some other fresh veggies, a sprinkle of feta cheese, sunflower seeds, and a drizzle of balsamic vinaigrette or oil and vinegar. Easy to meal prep for lunches!
Drink plenty of water. It help flushes waste out of the body, prevents dehydration, regulates the body temperature, and helps the body recover faster.
Take your supplements. It's thought that fibromyalgia is linked to magnesium deficiency. "Magnesium plays a critical role in the various processed turning the food we eat and our fuel stores into energy used by the cells." So add some magnesium supplements to your daily routine, such as this one that I swear by.
6. Take Time for You
Getting a massage, or even just a 20 minute epsom salt bath will help relieve those aching muscles. This may just rejuvenate you and give you the relief you need to bounce back. Add in some magnesium lotion or oil to soothe your aching muscles. This is the exact lotion I use.
7. Find Distractions
Paint your nails.
Read a book.
Watch a movie.
Binge-watch your favorite show on Netflix.
Play a game.
Find a hobby.
Visit with a friend.
I find keeping busy mentally helps distract from the pain.
"She was powerful, not because she wasn't scared but because she went on so strongly, despite the fear." ~ Atticus
Resiliency
No matter how much pain we are in or how exhausted we are, we manage to bounce-back. Like Bob Marley said, "You never know how strong you are, until being strong is your only choice." By following these strategies, my fibromyalgia body is like that rubber band, somehow it stretches but always bounces back.
"Resilience isn't about just overcoming the day-to-day burdens and hassles; it is also about thriving, becoming a stronger, healthier, a more flexible person and compassionate family unit."

From The Resiliency Theory
Living with fibromyalgia isn't easy. Let's face it, life in general isn't easy. With a few key strategies and some patience, you can survive, thrive, and even come out stronger on the other end.
Do you have other strategies for recovering quickly from a fibro-flare to add to the list?
Cheers!
Cynthia